Unleash your team's full potential
Pro Team Asia is a team development expert, providing comprehensive team training, team conflict management and team building programs. Our unique and certificated methodologies have been refined through years of experience. By utilizing our expertise in each of these areas, we can unlock your team's full potential and build a strong team culture within your organization.
Trust is the essential foundation of any successful team, but its value is vastly underestimated in companies.

Develop
your teams

through the power of trust
Learn how to focus on building a trusting team in order to allow the natural increase of communication, collaboration, accountability and engagement in your team. Leading to better performance.
Unlock the full potential in your teams with our all-inclusive team development programs.
Fully interactive, engaging, and effective team building events for companies. With over 2 decades of experience with multi-nationals. Team building is where we come from. Enjoy a customized experience to align with your objectives that are guaranteed to bring your team closer together through loads of fun. Learn more about our flagship activity that sends your teams on an amazing treasure hunt, or about the various types of other unique projects we offer.
A holistic approach to strengthening teams and helping them reach their full potential. Well-functioning and cohesive teams are the foundation for success in any organization. That's why our carefully designed workshops focus on learning, understanding, and applying key success factors for effective teamwork – adding value beyond conventional team building. Learn more about how you can sustainably improve collaboration, company culture, and employee engagement by partnering with us.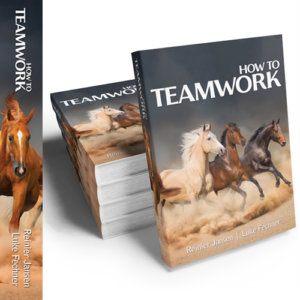 With over 20 years of first-hand experience and research revolving around teams, we've condensed our knowledge in our book 'How to Teamwork'. This insightful publication covers vital topics such as trust, psychological safety, effective communication, and their respective impact on team productivity. The practical strategies and innovative approaches provided serve as an invaluable resource to build high-performing teams.


Enquire with us now to discuss how trust can improve the productivity of your teams in your company.